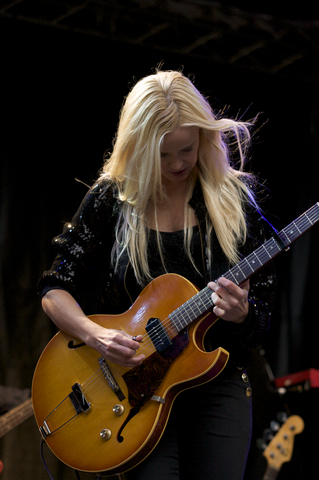 Bryan (Kelley) and I try to attend as many customer shows as we can in the L.A. area. One of the things we've noticed is how difficult it is for many artists to ask people to buy their CDs, even if they tour for a living. We often hear an almost apologetic tone when they tell the audience that they have CDs for sale, not wanting to come across like traveling salesmen. Our friend, Derek Sivers, founder and former owner of CD Baby, posted a great suggestion last week on how to get over this challenge:
If you are a performing musician that sells CDs at your shows, please consider this. Terry McBride of Nettwerk told this story at a recent conference:
A band he was managing (Griffin House) was doing the usual thing of selling CDs for $15. They'd mention it once or twice from the stage, and sell about $300 per night on average. He asked them to try a completely different approach:
1. Say to the audience, "It's really important to us that you have our CD. We worked so hard on it and are so proud of it, that we want you to have it, no matter what. Pay what you want, but even if you have no money, please take one tonight."
2. Mention this again before the end of the show, adding, "Please, nobody leave here tonight without getting a copy of our CD. We've shared this great show together so it would mean a lot to us if you'd take one."
It changes the request from a commercial pitch to an emotional connection. (Replace market mindset with social mindset!) Allowing them to get a CD for no money just reinforces that. Terry said that the band did this for a while, and soon they were selling about $1200 per night on average, even including those people who took it for free! I think the average selling price was about $10.
But the important part came next: because every person left each show with a CD, they were more likely to remember who they saw, tell friends about it, listen to it later, and become an even bigger fan afterwards. Then, when the band came back to a town where they had insisted that everyone take a CD, attendance at those shows doubled! The people that took a CD became long-term fans and brought their friends to future shows.
To date, there have been over 300 comments on Derek's post, most very well thought out. It's a great sampling of what's happening in the indie music arena right now. Since posting, he's already getting positive feedback on Twitter and the original blog article (see posts # 314 & 330.) The important thing to remember is that it's not about giving your music away for free - once you make that emotional connection, people will WANT to pay you for your music, sometimes even beyond your asking price.
Interested in joining the experiment? We'd love to hear your results!