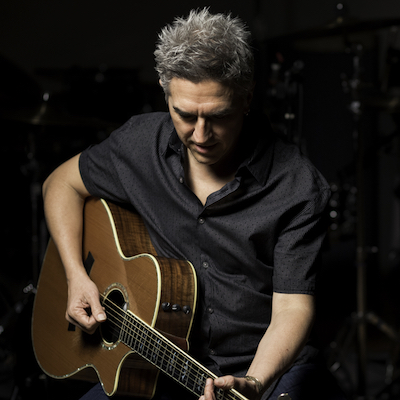 Congratulations to GHR founder, Bryan Kelley, for launching his new website which offers his services as a session guitarist.
Artist Bio
Bryan Kelley is a Los Angeles-based session guitarist and music composer who offers guitar recording sessions in-house or online. With over twenty-five years of experience as a studio and session musician, he has produced thousands of guitar, bass and ukulele tracks featured in film, television, movie and video game trailers, advertising spots, and album releases.
Alongside some of the top music composers in L.A., Bryan has crafted melodic lines for songs and underscore that artfully weave the textures of many genres including rock, pop, ambient, and soundscape.
Bryan cut his musical teeth on the ukulele at the age of four, while living in the Philippines as a navy brat. By thirteen, he'd moved to guitar and Seattle.
Growing up in several Northwest bands during the pre-grunge years, Bryan played alongside other emerging artists such as Scott Mercado (Candlebox), Mike McCready (Pearl Jam), and members of Queensryche and Alice in Chains.
Continuing to hone his craft, he later emerged as a singer/songwriter in Los Angeles – described as an edgy poet-musician, musically rooted in folk and modern rock. He successfully released a solo album "Charming the Gods" and toured extensively. Upon his return home to LA, Bryan started a family and a career in composing.
While his main instrument continues to be acoustic and electric guitar, Bryan also plays bass, ukulele and piano. In his off-hours, Bryan can be found mountain biking, skiing, snowboarding, or making up new and wondrous tones with his vast assortment of guitars, pedals and amps.
Listen to samples of Bryan's work on his session guitarist website or on Soundcloud.
Credits
Bryan's credits include: The Martian, Words and Pictures, The Switch, Big Crush II, Pistorius, Hope Springs, 2 Broke Girls, Big Hero 6, NCIS, The Good Dinosaur, Tori and Her Hair, Castle, MasterCard, The Discovery Channel, Party of Five, Dawson's Creek, Providence, Grosse Point Blank, D.C., Let's Make a Deal and many more.
Bryan Kelley can be reached by phone (818-674-1998), or through his website. Schedule a recording session with him today!