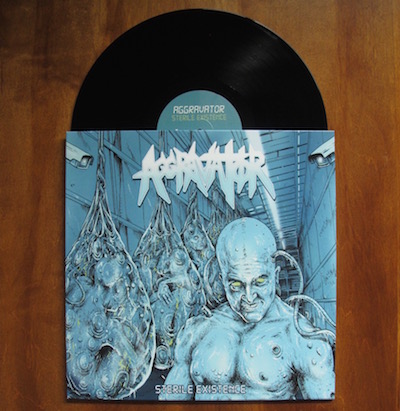 Congratulations to Groove House Records vinyl pressing customer Aggravator on their outstanding new release!
Artist Bio
Aggravator is a thrash metal band from San Antonio Texas, formed in 2008 by vocalist/rhythm guitarist Derek Jones and drummer Mike Cortes. After playing the local circuit for a while the band was joined by bassist Tristan Hernandez and lead guitarist Jesse Lopez.
The band released their first demo Seven Swords in 2010, which was followed by their full length album Age of Combat, released by Dead Center Productions in 2012. On the strength of this release, Aggravator was asked to play the 2012 edition of Inferno Metal Festival in Oslo, Norway.
In 2013 the band inked a deal with Canadian label Mulligore Productions and began working on their second album. Aggravator released their sophomore effort entitled Populace Destructor in the summer of 2014. Populace Destructor has received nothing but praise from the press with the album being included in several best of the year lists, including Revolver Magazine putting the album in the top five releases for the month of May.
After the re-release of Populace Destructor in 2015 through Dead Center Productions and a new album pressing, Aggravator returned overseas for a Scandanavian tour which included an appearance at the well renowned Muskelrock Festival 2016 in Sweden. Upon their return to the U.S. Aggravator followed up with an appearance at Full Terror Assault II Festival 2016 in Cave In Rock, IL. Reuniting with Dead Center Productions, Aggravator released their third full length album Sterile Existence October, 2016. The metal community has taken well to the album receiving solid, credible reviews throughout the world. Aggravator looks forward to continued success promoting their newest effort both nationally and internationally, while continuing to write new music.
About Groove House Records Vinyl Pressing services
Based in Los Angeles for over 20 years, we offer audiophile-class vinyl pressing, CD & DVD replication, short-run CD & DVD duplication, eco-friendly printing and packaging, Digipaks, download cards, posters, custom apparel, and more.
We believe that there will always be musicians needing a tangible medium to share their art, as well as listeners who demand audiophile-quality recordings. Using state-of-the-art manufacturing equipment, we strive to make the best-sounding CDs and vinyl records in the industry. We are also proud that our vinyl printing facility is FSC-certified and that we offer 100% recycled vinyl packaging options. Since 1996, thousands of customers have trusted Groove House Records with their music manufacturing projects.