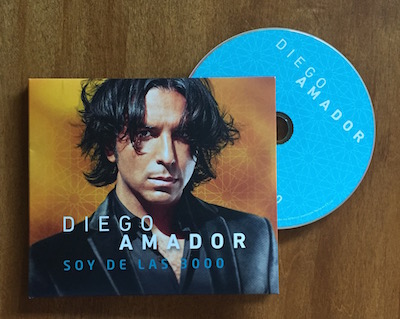 Congratulations to Groove House Records CD duplication customer Diego Amador on his outstanding new release, Soy De Las 3000!
Artist Bio
As a pianist Diego Amador is known as "The Gypsy Ray Charles", because of the carefree and vigorous spirit with which he plays the piano. He has become famous as a Flamenco singer-songwriter through a broad progression of flamenco styles and keys. That combination of exceptional musician and interpreter has been his passport to collaborating with the great stars of flamenco, such as Tomatito, Camarón de la Isla, Diego El Cigala, and Remedios Amaya just to name a few.
His passion for music flourished almost simultaneously with learning to talk, when his father taught him his first flamenco notes as he carried him in his arms while still a baby.
As a member of the gypsy community, his childhood became a musical canvas where Diego, his family and neighbors shared music out in the open. "We would all gather with our guitars "he recalls "and sing and simply make music, until night cloaked us with its universe replete with stars and flamenco rhythms."
At the age of five, when his hands could not yet completely wrap around the neck of his guitar, he would stretch them out as much as possible to touch the first chords. With that same spontaneity, he soon went on to new instruments, such as the drums, bass and, of course, the piano. "I didn't go to school much, just enough to learn to read, write and do basic math," he recounts. His best university was his passion for art. That was also his best protection because he lived in one of the most marginal and dangerous neighborhoods in Seville, Spain: the Barrio of the 3,000 dwellings. So while many young people were lost to the world of drugs, Diego spent many long hours in his house, playing music. That is where and how his first compositions were born.
In his adolescence, two of his older brothers, Raimundo and Rafael Amador established the group Pata Negra which became famous in the 80's with its fusion of flamenco, rock and blues. Diego would go to see them whenever they let him and would steal the show whenever he was sporadically invited to play the drums; a child who couldn't even reach the pedals at the time.
At age nineteen, the opportunity arose for his first recording titled Anticipo Flamenco, a glimpse into what would be a new door opening for the new flamenco piano of the time. This work was produced by Ricardo Pachón, the most influential producer of the genre. Despite his young age, Diego's undeniable passion for jazz and the piano asserted itself in this project.
In later albums, El aire de lo puro and Piano Jondo, he emerged on the scene with his unique style of playing the piano as though it were a guitar, a style that has become his hallmark and has cemented his reputation as a great master of flamenco piano. At that time, and thanks to his powerful flamenco voice, Diego Amador gained fame with his versatile vocalization, awakening in his audience an array of emotions where the fierce and the magical blend in perfect harmony. That free and fascinating style was embodied in his album Rio de los Canasteros, for which he won his first nomination to the Latin Grammy Awards 2008 in the "Best Flamenco Album" category. This would be followed by his recording Live in Paris / Flamenco Jazz Tribute (2012); his tribute to the great masters who have inspired him.
By 2013, when he recorded his sixth album, Scherzo Flamenco, the international press was already calling him "one of the most brilliant flamenco pianists of all times." Between one recording and another, he always found time to share the stage with important musical icons, such as Chick Corea (considered to be one of the maximum interpreters of piano jazz), jazz guitarist Pat Metheny, the legendary double bass player Charlie Haden, as well as Abraham Laboriel and Alex Acuña, among many others.
The year 2016 marked the beginning of a new musical phase in Diego's artistic career. Along the side of renowned Cuban musician, arranger Alain Perez he explored the world of Salsa and Latin Rhythms and it incentivized his return to the studio. Miami was the inspiration to produce this, his most biographic record yet: Soy de las 3,000. He arrived in the company of two of the masters of music, his fellow countryman Alejandro Sanz and the "Pharaoh of Salsa," Oscar De León. Accompanied by De León, Diego blends his flamenco voice with salsa rhythms to produce the first single of his album called, La Sandunguita. Meanwhile with Sanz he recorded Regálame la silla donde te esperé, a musical flare where two of the most complete voices of the Hispanic world draw a pentagram in which the new flamenco glows in all its splendor. The album has two recordings authored by him: Soy de las 3,000, which is a tribute to his family and his childhood memories, and Me Trae el Aire, two flamenco rumbas with the perfect stamp of Amador. The CD also includes El Son de la madrugada; an emotionally charged song he recorded two decades earlier with the popular Cuban artist Omara Portuondo, and which on this occasion Diego renews with a fabulous solo interpretation. In El Alma al Aire y Dos Gardenias, what comes to the fore is how the boundaries among various musical genres disappear to give way to a new musical horizon where good music and the purest feeling passionately embrace.
With a career spanning more than twenty years and these nine new recordings on his new album, Diego Amador consolidates himself as one of the greatest interpreters of the new flamenco and the perennial flamenco. Only someone with his interpretative spirit – in voice and hands – achieves what others believed to be impossible: the melding of the spontaneous and the wild to reach the heart, from the very first note.
Product Manufactured by Groove House Records
We created a CD duplication package for Diego Amador, consisting of a 6 panel wallet on our 35% post-consumer recycled 18 point SBS with a matte finish and a 24 page poster folder printed on our FSC certified and 50% recycled paper stock.
About Groove House Records CD Duplication Services
Based in Los Angeles for over 20 years, we offer audiophile-class CD & DVD replication, short-run CD & DVD duplication, eco-friendly printing and packaging, vinyl pressing, Digipaks, download cards, posters, custom apparel, and more.
We believe that there will always be musicians needing a tangible medium to share their art, as well as listeners who demand audiophile-quality recordings. Using state-of-the-art glass mastering and CD manufacturing equipment, we strive to make the best-sounding CDs in the industry. We are also proud that our CD & DVD printing facility is FSC-certified. We offer 100% recycled CD & DVD packaging options, including recycled Digipak trays. Since 1996, thousands of customers have trusted Groove House Records with their music manufacturing projects.