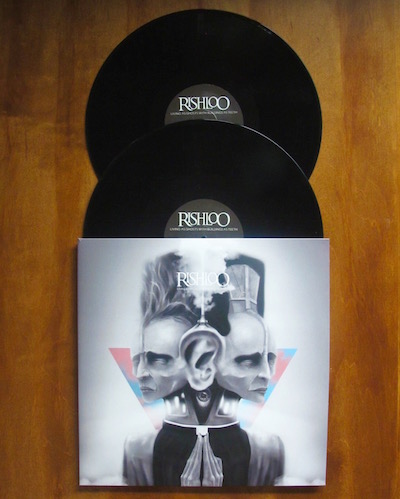 Congratulations to Groove House Records vinyl pressing customer Rishloo on their outstanding new release Living as Ghosts with Buildings as Teeth!
Artist Bio
Formed in late 2002, Seattle's Rishloo continues to gain wide-spread recognition for their dynamic sound, thought-provoking lyrics and intense live performance. Often compared to bands like Dredg, The Mars Volta, Tool and Fair to Midland, Rishloo strives to push the envelope of psychedelic, progressive art-rock, drawing inspiration from classic artists like The Beatles, David Bowie, and Pink Floyd, while incorporating the modern experimentation and emotional depth of artists such as Tori Amos, Deftones, Radiohead, Porcupine Tree and more.
In February 2012 the band announced that Andrew, the vocalist, decided to leave the band, this being the unexpected end of Rishloo. The remaining members briefly formed the band The Ghost Apparatus, until late in 2013 when Andrew and the band rejoined forces. On October 10th 2013 the band announced that they had decided to move forward making music as Rishloo.
Continuing as they have since their inception as an entirely independent venture, RISHLOO have sold 5,500+ units of their debut album, Terras Fames (2004) and 9,500+ units of their sophomore effort, Eidolon (2007) while attracting tens of thousands of fans online from around the globe. Interest in the band continues to grow exponentially on sites such as Myspace, Facebook, YouTube, ReverbNation and Last.FM.
With a lot of hard work and much appreciated help from their fans, RISHLOO continue to travel and perform whenever possible throughout the U.S. and parts of Canada. In the course of their adventures, they have been privileged to share the stage with artists like Karnivool, Papa Roach, Fair to Midland, Ashes Divide, Sevendust, Trapt, Strata and Judas Priest.
The band's latest effort, Living as Ghosts with Buildings as Teeth, was released January 2015 and is now available in vinyl as well.
According to the band, Living as Ghosts with Buildings as Teeth was a record that they had to get out of their system and too right this claim was. Over the course of the last five years the band spent time improving their overall musicianship, song writing abilities and chemistry as a band. In addition to this, just when the listener thinks that Andrew's vocals can't get any better, he returns more powerful than ever with an increased level of stamina. Judging from all of the improvement, Rishloo has returned better than ever with their most progressive release yet.
Product Manufactured by Groove House Records

We created a vinyl pressing package for RIshloo, consisting of a double vinyl set in 140 gram black vinyl with a full color label and a 12 inch full color jacket.
About Groove House Records Vinyl Pressing Services

Based in Los Angeles for over 20 years, we offer audiophile-class vinyl pressing, CD & DVD replication, short-run CD & DVD duplication, eco-friendly printing and packaging, Digipaks, download cards, posters, custom apparel, and more.
We believe that there will always be musicians needing a tangible medium to share their art, as well as listeners who demand audiophile-quality recordings. Using state-of-the-art manufacturing equipment, we strive to make the best-sounding CDs and vinyl records in the industry. We are also proud that our vinyl printing facility is FSC-certified and that we offer 100% recycled vinyl packaging options. Since 1996, thousands of customers have trusted Groove House Records with their music manufacturing projects.