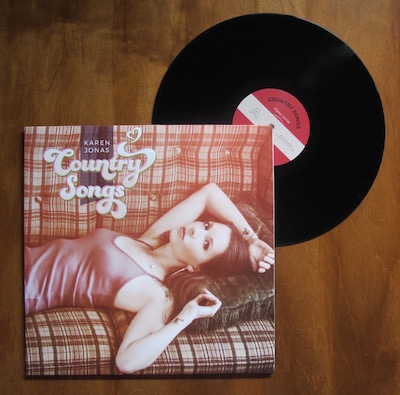 Congratulations to Groove House Records vinyl pressing customer Karen Jonas on her outstanding new release!
Artist Bio

Born, raised, and recorded in the heart of Fredericksburg, Virginia, Karen Jonas's Country Songs is a celebration of music made outside the machine - of songs written in her living room, captured live in the studio just down the street, and sent out to see where it stands in the big, wide world. Releasing October 14, the album is a collection of character, talent and tenacity.
Country Songs is a refreshing mix of classic sounds with new, head-turning country swagger. At times defiant, celebratory, or pining, Country Songs remains intensely personal. It is crafted to be focused on - perhaps alone, while sipping whiskey on a quiet evening - for poetry, story, and nuance. The layered fiddle, steel, and organ are the stage upon which Jonas's stories shine, with collaborator Tim Bray's lead guitar acting as a spotlight. The swanky, two-steppin' title track professes a love of the Bakersfield sound (and Dwight Yoakam's jeans), born out of heartbreak. It isn't quite serious, but isn't quite tongue-in-cheek. "Wasting Time" adds a softer side with a timeless tale of love that won't disappear, while tracks like "Ophelia" and "The Fair Shake" show off the talents of twang-master Bray's big orange Gretsch.
Recorded live in the studio, the collection encompasses both the vibrant local music community surrounding Fredericksburg, as well as the dynamic live feel that Jonas and Bray have spent nearly three years honing while on the road supporting the release of 2014's Oklahoma Lottery. The critically acclaimed album was praised by Rolling Stone Germany, Farce the Music, Saving Country Music, Twang Nation and Country Perspective, among others.
In a time when the country music genre is complicated by competing definitions, Jonas weighs in strongly with her own version of what country music should be. Country Songs may be the self-made duo's showcase of a local sound, but the collection has them poised to take a bow on an international stage. Maybe they'll ask Dwight Yoakam if they can borrow a pair of his jeans.
Product Manufactured by Groove House Records

We created a vinyl pressing package for Karen Jonas consisting of a 140 gram black vinyl with a full color label and a 12 inch full color jacket.
About Groove House Records (CD duplication) Services

Based in Los Angeles for over 20 years, we offer audiophile-class vinyl pressing, CD & DVD replication, short-run CD & DVD duplication, eco-friendly printing and packaging, Digipaks, download cards, posters, custom apparel, and more.
We believe that there will always be musicians needing a tangible medium to share their art, as well as listeners who demand audiophile-quality recordings. Using state-of-the-art manufacturing equipment, we strive to make the best-sounding CDs and vinyl records in the industry. We are also proud that our vinyl printing facility is FSC-certified and that we offer 100% recycled vinyl packaging options. Since 1996, thousands of customers have trusted Groove House Records with their music manufacturing projects.