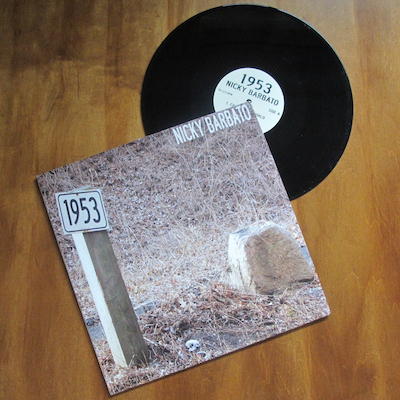 Congratulations to Groove House Records vinyl pressing customer, Nicky Barbato on his outstanding debut release, "1953."
Artist Bio

The Nicky Barbato Project is a dynamic guitar trio that combines surf guitar and pedal steel twang, 1960s film score soundscapes, jazz harmonies, and retro pop melodicism. The project features Barbato's original instrumental compositions.
1953 is an anti-solo jazz guitar record that draws influence from Chet Atkins, Jimi Hendrix, George Benson, and Jim Campilongo. It is comprised of five original arrangements of standards and pop hits. 1953 will be released on vinyl and digital download in April 2017.
Product Manufactured by Groove House Records

We created a vinyl pressing package for Nicky Barbato, consisting of a 140 gram black vinyl with a full color label and a 12 inch full color jacket.
About Groove House Records Vinyl Pressing Services

Based in Los Angeles for over 20 years, we offer audiophile-class vinyl pressing, CD & DVD replication, short-run CD & DVD duplication, eco-friendly printing and packaging, Digipaks, download cards, posters, custom apparel, and more.
We believe that there will always be musicians needing a tangible medium to share their art, as well as listeners who demand audiophile-quality recordings. Using state-of-the-art manufacturing equipment, we strive to make the best-sounding CDs and vinyl records in the industry. We are also proud that our vinyl printing facility is FSC-certified and that we offer 100% recycled vinyl packaging options. Since 1996, thousands of customers have trusted Groove House Records with their music manufacturing projects.