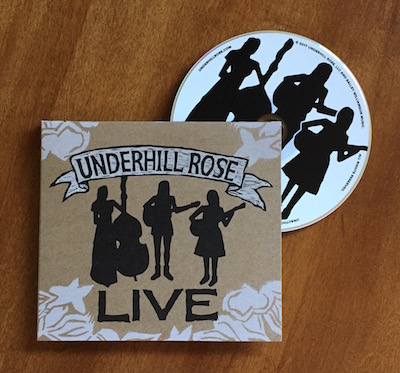 Congratulations to Groove House Records CD replication customer Underhill Rose on their outstanding new release!
Artist Bio

Harmonies. Soul-touching lyrics. Eye-catching stage presence. Underhill Rose has become synonymous with beautiful music, charming personalities, and rippling success. In the last four years, the all-female trifecta has independently released two albums in the top of the Americana Music Association Airplay Chart and the Roots Music Report Chart, all the while garnering critical acclaim from around the globe.
Get to know the joyful soaring voice of Molly Rose and her guitar, the distinctive styling of Eleanor Underhill's open-back banjo and salty-blues vocals in tandem with Salley Williamson on upright bass and harmonies. With their song-centered original compositions, the troubadours create three-part harmony music that is real and inspired. See the trio on PBS Television, hear them on nationally-syndicated radio and at live performances across the US and Europe, and you will know how Underhill Rose has carved out a distinctive place in the Americana-folk scene.
2016 has already become a high-spirited year, with the band's first-ever international tour to the UK and Ireland, performances at Woodsongs Old Time Radio Hour and Folk Alliance International, and sold-out shows at clubs and performance centers along the way. On the heels of outstanding album reviews in Europe, Underhill Rose will hop the pond for a second international tour in November, and with plans to record a live album in the fall, it's full steam ahead for these ladies.
The successful completion of two crowd-funding campaigns raised over $50,000 and freed the group to independently release two noteworthy and charting albums. Their sophomore release, Something Real, peaked at number 18 on the AMA Chart, was named an AMA Top 100 Album of the Year, and claimed a spot in the top 25 of the EuroAmericana Chart, Freeform Americana Radio, and The Alternate Root "Roots 66" charts. In 2015, the band's tertiary album, The Great Tomorrow, released to wide acclaim, reached the Top 30 of the AMA Airplay Chart once again, and took hold at number 1 on The Roots Music Report's Progressive Bluegrass Album Chart for over nine weeks. R2 Magazine notes, "The Great Tomorrow is simply top-class country music, seasoned beautifully and seamlessly with earworm hooks and bluesy edges, all delivered with instrumental panache and supremely confident singing."
Molly Rose and Eleanor Underhill's musical partnership is the result of a chance meeting at a makeshift performance of "Angel from Montgomery" between classes at Warren Wilson College. Their affinity for the music they make has kept them together for more than 10 years. Underhill Rose formed in 2009, and the addition of Salley Williamson two years later created the foundation for the internationally-recognized female trio known for blending aspects of Americana, R&B, country, and bluegrass into an authentic sound that is all their own—"Heartfelt Country Soul." Armed with a fresh sound and an extraordinary ability to blend a multitude of musical genres, Underhill Rose is an acoustic trio that will touch your soul.
Product Manufactured by Groove House Records

We created a CD replication package for Underhill Rose, consisting of a 4 panel Digipak on our 100% recycled 18 point Enviroboard stock with a 12 page booklet printed on our FSC certified and 50% recycled paper stock.
About Groove House Records CD Replication Services

Based in Los Angeles for over 20 years, we offer audiophile-class CD & DVD replication, short-run CD & DVD duplication, eco-friendly printing and packaging, vinyl pressing, Digipaks, download cards, posters, custom apparel, and more.
We believe that there will always be musicians needing a tangible medium to share their art, as well as listeners who demand audiophile-quality recordings. Using state-of-the-art glass mastering and CD manufacturing equipment, we strive to make the best-sounding CDs in the industry. We are also proud that our CD & DVD printing facility is FSC-certified. We offer 100% recycled CD & DVD packaging options, including recycled Digipak trays. Since 1996, thousands of customers have trusted Groove House Records with their music manufacturing projects.