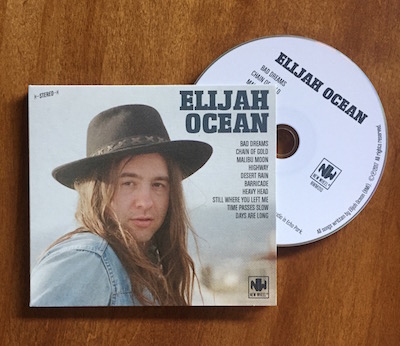 Congratulations to CD replication customer Elijah Ocean on his outstanding new release!
Artist Bio
It's twenty-seventeen in the southwestern corner of America. There's snow in the distant mountains and the slow desert sunset creeps through the windshield of the Mercury on 40 West. The young man is driving home, wherever that is.
He was born in a small woodland house in the Hudson Valley, raised in rural Maine, and enlightened by time spent in New York City. He's landed in Los Angeles for now, where the Sunset Strip is a wasteland, Silverlake has peaked, and the spirit of Laurel Canyon echos through the hills of Highland Park. The end of the world is a damn inspirational place to be.
He writes and records. The hard work shines through in his craft without a scrap of it being over-thought. It's American music. It's conceived on highways between cities past their prime. It's born from memories and dreams of fresh starts. There's rich history to draw from in Nashville, Memphis, Muscle Shoals, Bakersfield and Austin, but he doesn't desire a repeat. He celebrates the richness of a multi-generational record collection while adding a fresh voice to the conversation, and the music is new.
Listen up.
Every year Elijah Ocean crisscrosses the country singing his songs and making memories. With three full-length LPs under his belt and a fourth in the chamber, Ocean is just hitting his stride.
For now there's a much-needed diner booth in Needles on 66. Welcome to California. Set your clocks
Product Manufactured by Groove House Records
We created a CD replication package for Elijah Ocean, consisting of a 4 panel Digipa) on our 100% recycled 18 point Enviroboard stock with a clear tray.
About Groove House Records (CD Duplication/CD Replication) Services

Based in Los Angeles for over 20 years, we offer audiophile-class CD & DVD replication, short-run CD & DVD duplication, eco-friendly printing and packaging, vinyl pressing, Digipaks, download cards, posters, custom apparel, and more.
We believe that there will always be musicians needing a tangible medium to share their art, as well as listeners who demand audiophile-quality recordings. Using state-of-the-art glass mastering and CD manufacturing equipment, we strive to make the best-sounding CDs in the industry. We are also proud that our CD & DVD printing facility is FSC-certified. We offer 100% recycled CD & DVD packaging options, including recycled Digipak trays. Since 1996, thousands of customers have trusted Groove House Records with their music manufacturing projects.