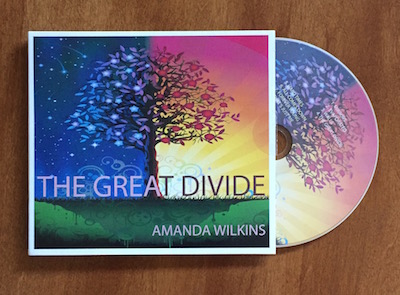 Congratulations to Groove House Records CD duplication customer Amanda Wilkins on her outstanding new release The Great Divide!
Artist Bio
Amanda Wilkins: vocals/backing vox, songwriter, rhythm guitar
Amanda has recorded backing and lead vocals on albums by Lee Blanton, Royce Campbell, Barrelhouse Bonnie, Tony Mowatt, Natchez Trace Band, and Ricky Wilkins to name a few. She has performed onstage with Linda Davis, Kevin Sharp, Billy Thompson, Catfish Hodge, and Danni Leigh and has released two albums, "Somewhere South of Heaven" (Delwray Records) and "Off The Cuff" (New Indie Artists). Amanda is currently in production for her upcoming EP entitled "Profile" and is accepting studio work.
"Like Coffee and Cream" Americana Rhythm Magazine
Ricky Wilkins: keyboards, vocals, songwriter
Ricky has over 35 years experience in the music business including performances at the Grand 'Ole Opry, The Kennedy Center, The Four Queens, Las Vegas, and the Persian Gulf during Operation Desert Storm for the Dept. of Defense. He has appeared on recording projects for various artists such as Razzy Bailey, Billy Thompson,Tony Mowatt, Pam Seekford, Blue, River's Edge, Michael Thomas Cash, and Amanda Wilkins. He has released under his own name: Joker's Jubilee, Rick Wilkins Band, Still Life, and Light Hearted Christmas. He released Somewhere South Of Heaven with Amanda Wilkins under the band name "Blackbird." Producer Credits include: Joker's Jubilee, Rick Wilkins Band, Still Life, Lighthearted Christmas, Somewhere South of Heaven, Off the Cuff (Amanda Wilkins), Portrait (Pam Seekford),Dancing My Name, (Michael Thomas Cash) and World of Dreams (Lee Blanton). Rick is a B.M.I. songwriter with credits on hit programs such as "Wife Swap" on the Lifetime Network and ABC, "Inside the NBA" on the TNT network, and WWE Wrestling to name a few. He is currently accepting studio work and working on the production of Amanda's upcoming EP.
Amanda and Ricky Wilkins have previously performed/recorded under the group/band name "Blackbird." In 2003, Blackbird released the album, "Somewhere, South of Heaven," which has received substantial national and international airplay.
Product Manufactured by Groove House Records
We created a CD duplication package for Amanda Wilkins, consisting of a 4 panel Digipak on our 100% recycled 18 point Enviroboard stock with a 100% recycled clear tray and a 12 page booklet printed on our FSC certified and 50% recycled paper stock.
About Groove House Records CD Duplication Services

Based in Los Angeles for over 20 years, we offer audiophile-class CD & DVD replication, short-run CD & DVD duplication, eco-friendly printing and packaging, vinyl pressing, Digipaks, download cards, posters, custom apparel, and more.
We believe that there will always be musicians needing a tangible medium to share their art, as well as listeners who demand audiophile-quality recordings. Using state-of-the-art glass mastering and CD manufacturing equipment, we strive to make the best-sounding CDs in the industry. We are also proud that our CD & DVD printing facility is FSC-certified. We offer 100% recycled CD & DVD packaging options, including recycled Digipak trays. Since 1996, thousands of customers have trusted Groove House Records with their music manufacturing projects.