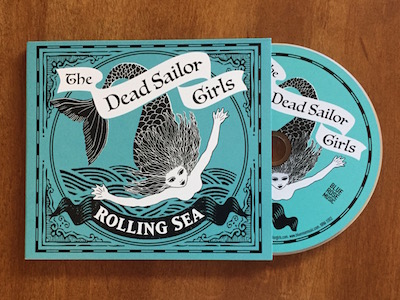 Congratulations to Groove House Records CD duplication customer The Dead Sailor Girls on their outstanding new release Rolling Sea!
Artist Bio

As with the sea itself, you have to look below the surface to get the full effect of The Dead Sailor Girls.
Tales of shipwrecks and ill-fated romances are woven into the narrative of Rolling Sea, the San Francisco band's enticing debut album. The mother-daughter harmonies of Julietta Hay and Eve Hay are rooted in family, yet delivered from a deeper place – the Pacific Ocean, to be exact.
"The band name is for the beings who live in the sea, for mermaids, fishermen, and the sailors, pirates, and poets who are all drawn to the water," says Julietta, who writes the songs and plays guitar in the band. "We live near the ocean so it is always at the background of our thoughts."
When the Dead Sailor Girls take the stage, the two women are welcomed as exotic mermaids who have emerged for one reason – to deliver a rock 'n' roll show. Eve often takes lead vocals; Julietta's sweet soprano weaves through the verses and choruses until they slip back into the waves.
Produced by Karl Derfler (Tom Waits, No Doubt and The Devil Makes Three), Rolling Sea is a gleaming treasure chest of influences and experiences. The bubbly "Magic Potion" will captivate any fan of '80s pop and "Dance of the Broken Heart" is a bounty of undeniable hooks. "Sensitive Bad Boys" is a refreshing acknowledgement that some of us aren't meant to marry men in suits. The gorgeous "Sail Away" puts Eve's striking vocal talent front and center, as irresistible as a siren's song.
Meanwhile, the young hopefuls portrayed in "Hobo's Dreams" and "Miles on the Car" are left to figure out what to do after their dreams don't turn out as planned. The ominous title track, "Rolling Sea", finds Julietta and Eve yearning for their wayward sailors – with no guarantee of ever seeing them again.

"Each song on this album is like a window into a life," Eve says. "The lyrics are so vivid, and imagery becomes familiar. I would describe the experience of singing them as sensory, but not just visual, more like dreaming. I have felt the salt spray in 'Rolling Sea,' visited the captain's cabin in 'Beau Cheri' and attended the 'Dance of the Broken Heart,' for example."
While such legends of the sea are timeless, The Dead Sailor Girls' own story is just beginning. As a child, Julietta learned to play guitar and found inspiration in Appalachian music and Chicago blues. She moved from the Virginia/Washington D.C. area to San Francisco in the 80's. She wrote many songs and performed in local venues while raising her two daughters. Eve and Julietta had already been singing together since Eve and her sister Hayley were children. Their voices intertwine seamlessly, like the strands of DNA they share.
In 2012, Julietta and Eve, while working out sea chanties, came up with the band name The Dead Sailor Girls.
The name stuck, even as their style evolved. The duo were soon joined by drummer John Stuart and bassist Ned Doherty, performing their very first show on Halloween of 2012.
"Our music has many influences", Julietta says. "We like to sing in harmonies throughout our songs". Backed by dance tune bass-lines, electric guitars and a rock'n'roll heartbeat, The Dead Sailor Girls create a sound that combines pop, blues, psychedelia, love songs, ghost songs and country songs. "We love all kinds of music, and different genres make up our sound, some of which might surprise you. We call our style, "Psycho-Jelly".
The Dead Sailor Girls will release their first album on Blue Rose Music on April 28.
Product Manufactured by Groove House Records

We created a CD duplication package for The Dead Sailor Girls, consisting of a 4 panel Digipak on our 35% recycled 18 point standard bleached white stock with a clear tray.
About Groove House Records CD duplication Services

Based in Los Angeles for over 20 years, we offer audiophile-class CD & DVD replication, short-run CD & DVD duplication, eco-friendly printing and packaging, vinyl pressing, Digipaks, download cards, posters, custom apparel, and more.
We believe that there will always be musicians needing a tangible medium to share their art, as well as listeners who demand audiophile-quality recordings. Using state-of-the-art glass mastering and CD manufacturing equipment, we strive to make the best-sounding CDs in the industry. We are also proud that our CD & DVD printing facility is FSC-certified. We offer 100% recycled CD & DVD packaging options, including recycled Digipak trays. Since 1996, thousands of customers have trusted Groove House Records with their music manufacturing projects.