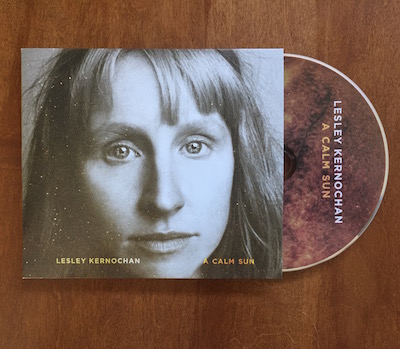 Congratulations to Groove House Records CD duplication customer Lesley Kernochan on her outstanding new release!
Artist Bio

Lesley Kernochan is one you can't predict. One minute she's howling a country tune with the midnight coyotes, and the next minute she's delivering a full plate of swingin' sass. Lesley has an eclectic background as a saxophonist, contemporary composer, operatically trained coloratura, vagabond cabarista, musical saw player, and now singer/songwriter. In each uniquely crafted song Lesley offers her intimate vocal prowess and earnest, playful spirit. Lesley has four albums of original music including an a cappella creation Undulating, her indie rock/pop/jazz sensation The Pickle Jar, the gold award-winning children's album A Day in the Life of a Boogaleeboo, and her most recent Americana record A Calm Sun, available May 19th in the U.S.
Product Manufactured by Groove House Records

We created a CD duplication package for Lesley Kernochan, consisting of a 4 panel Digipak on our 100% recycled 18 point Enviroboard stock with a 100% recycled clear tray and a 12 page booklet printed on our FSC certified and 50% recycled paper stock.
About Groove House Records CD Duplication Services

Based in Los Angeles for over 20 years, we offer audiophile-class CD & DVD replication, short-run CD & DVD duplication, eco-friendly printing and packaging, vinyl pressing, Digipaks, download cards, posters, custom apparel, and more.
We believe that there will always be musicians needing a tangible medium to share their art, as well as listeners who demand audiophile-quality recordings. Using state-of-the-art glass mastering and CD manufacturing equipment, we strive to make the best-sounding CDs in the industry. We are also proud that our CD & DVD printing facility is FSC-certified. We offer 100% recycled CD & DVD packaging options, including recycled Digipak trays. Since 1996, thousands of customers have trusted Groove House Records with their music manufacturing projects.