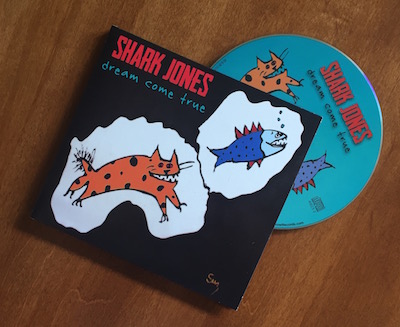 Congratulations to CD duplication customer Shark Jones on their outstanding new release Dream Come True!
Artist Bio

The Dream Come True album has evolved over four decades, with core band mates, several bands, "lovers, family, and friends." The basic tracks of the album were recorded in 1992 in a "live band format." The following two years were spent dubbing tracks, adding instrumentation, recording vocal tracks, and mixing the final product. Following the initial mastering, the final production of the album was put on hold in 1994. In 2016 after a series of personal losses and retirement, the band determined to make this dream album a reality.
Product Manufactured by Groove House Records

We created a CD duplication package for Shark Jones, consisting of a 4 panel "LP style" wallet with two pockets on our 100% recycled 18 point Enviroboard stock with a full color 6 panel folder printed on our FSC certified and 50% recycled paper stock and a full color CD.
About Groove House Records CD Duplication Services

Based in Los Angeles for over 20 years, we offer audiophile-class CD & DVD replication, short-run CD & DVD duplication, eco-friendly printing and packaging, vinyl pressing, Digipaks, download cards, posters, custom apparel, and more.
We believe that there will always be musicians needing a tangible medium to share their art, as well as listeners who demand audiophile-quality recordings. Using state-of-the-art glass mastering and CD manufacturing equipment, we strive to make the best-sounding CDs in the industry. We are also proud that our CD & DVD printing facility is FSC-certified. We offer 100% recycled CD & DVD packaging options, including recycled Digipak trays. Since 1996, thousands of customers have trusted Groove House Records with their music manufacturing projects.